SEE ALSO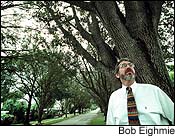 CONTRAST:
Above, Jeffrey Siegel, director of landscape architecture in Plantation, inspects a lush canopy of oak trees. At top, a more typical South Florida scene: The Silver Lakes development in Pembroke Pines has few sizable trees. Trees can reduce home energy costs by as much as 50 percent.
---
TREE-CONSCIOUS CITY:
Giant oak trees create a tunnel of greenery on Coral Way in Coral Gables. Since its founding in the 1920s, the city has encouraged trees and has strict regulations governing them. Coral Gables has nearly 43,000 people and about 31,000 trees. Every year the city plants 600 trees.
---
Planting program began 24 years ago with homeowners
Strong ordinance mandates replacements when trees removed
Landscape architect oversees 28,000 trees on streets, in parks
City had a 'tree philosophy' beginning with its founding
Why trees matter (83K graphic)


HERE'S HOW TO HELP BOOST TREE COVER

When American Forests surveyed Miami-Dade in 1996, it found a single tree added to every home would decrease electric bills by $14 million. Here's what you can do to boost the tree cover in South Florida:

In Broward County, begin with Sean McSweeney, the county's urban forester, at 954-519-1491. He can direct you to the types of trees that will work best.

In Miami-Dade County, a free booklet called Dig In Dade County/Every Tree Counts! provides a wealth of information. For a copy in English or Spanish, call 305-372-6585.

The University of Florida's Cooperative Extension Service has offices in every county. In Dade, call 305-248-3311; in Broward, call 954-370-3725; in Monroe, call 305-292-4501.

FPL Corp. has a free booklet, Plant the Tree in the Right Place, about trees and power lines. Call 1-800-DIAL-FPL.

Tree recommendations: Small trees (less than 20 feet tall): Dwarf poinciana, caesalpinia, geiger, Simpson's stopper, wax myrtle, yellow elder; Medium trees (20 to 40 feet): Orchid tree, yellow and pink tabebuias, dahoon holly; Large trees (40 feet or higher): gumbo limbo, black olive, jacaranda, live oak, mahogany, royal poinciana, wild tamarind, pigeon plum.

Trees: They shade us, increase our property values, revitalize our neighborhoods. They keep our waterways fresh, lower our air-conditioning bills, cleanse our air. They provide food and shelter for hundreds of birds, insects and critters that also call this place home.

Yet in South Florida, known for its lush foliage and tropical topography, large landscapes are virtually treeless. Boulevards of canopied tree tunnels are few. Suburbia is awash with red roofs, with little green sprouting through. Shopping centers: Where are the shade trees?

A tree canopy is critical to South Florida, where the subtropical sun is stronger than in most of the nation. Trees act as pollution filters, creating cleaner air. They can reduce home energy costs by as much as 50 percent. They shade us, lowering our increasingly warm temperatures.

But trees shade an average of only 10 percent of Miami-Dade County, according to a 1996 survey by American Forests, the nation's oldest citizen conservation organization, founded in 1875. In Broward, tree canopies range from 7.7 to 24.8 percent according to five areas sampled in 1998.

These percentages are considerably lower than the 25 to 33 percent average for an American city, and the 40 percent canopy considered ideal by American Forests. Leisure City, in far South Dade, had only 2 percent canopy cover in 1996, having been hit hard by Hurricane Andrew. Also low: Hialeah (pop. 209,500) with a scant 3 percent cover.

A tree canopy can be a community catalyst. Tree-lined streets beautify an area, resulting in higher property values. Tree-lined streets lead to more people walking and enjoying the outdoors. Tree-lined streets give neighborhoods a sense of place and community pride.

''It's so ironic that we have such a horrendously small tree canopy when everything here grows so much. The asphalt wins every time,'' says Bob Ross, head of TREE-mendous Miami, a nonprofit tree-planting organization.

Of course, some communities have long recognized the value of trees. Coral Gables, Plantation, Miami Springs, North Miami and Miami Lakes come to mind.

More recently, Broward County decided bolstering the tree canopy is one of its top goals: The county is giving out trees, establishing urban forestry programs, tightening tree-trimming and tree-removal laws and educating folks about the importance of trees.

''We want people to plant the right trees, in the right place, and take proper care of them,'' said Sean McSweeney, Broward's coordinator of urban forestry programs, a position the county commission created last year.

Miami-Dade, too, is following suit -- the county is setting up a neighborhood tree-planting program, the city of Miami recently hired a landscape architect and many other municipalities are tightening their tree-abuse laws.

''There's a lot more awareness of the value of trees these days,'' said Peter Burke, manager of the tree resource section of Broward County. ''That's why people are paying a lot more attention to preserving the trees that we have.''

PROBLEMS IN PAST
Urban sprawl, hurricane, disease took their toll

Many parts of South Florida do not have an enviable record when it comes to tree preservation. Among past problems:

Urban sprawl led to the unchecked destruction of thousands of trees.

Hurricane Andrew leveled thousands of trees in 1992. Federal Emergency Management Agency funds replaced many of them, but many planted since have not been maintained and several hundred have died or are not thriving.

A disease called canker is eliminating citrus trees.

Lethal yellowing disease of palms has not been adequately addressed.

Bad pruning keeps many big trees from growing into viable shade trees.

Dade County passed a landscape ordinance in 1996 requiring developers to plant five trees for every new single-family home (three yard trees, two in the swale every 30 feet). Yet that hasn't stopped people from removing native shade trees -- gumbo limbos, oaks and mahoganies -- and replacing them with palms or fruit trees, says Gilberto Blanco, principal planner with the Dade department of planning and zoning.

Trees have few lobbyists. The Florida Legislature eliminated the statewide Urban Forestry program in 1995. Small Business Administration grants for tree plantings were discontinued in 1994. The City of Miami stopped funding its Committee on Beautification and the Environment in 1996.

After Hurricane Andrew, the state dropped its program to grow palms resistant to lethal yellowing. Miami-Dade County's proposed $1 million for tree planting was cut last fall from the county's budget, with only $200,000 retained for tree replacement.

South Florida's tree woes are not new. Development in Dade has claimed 98 percent of all pineland and hardwood hammocks outside of Everglades National Park, while huge areas of Broward are so depleted of tree-covered land, they are built on marsh.

For decades, housing developments arose on tree-free lots. It was cheaper to bulldoze and replant saplings than to work around mature trees.

Where orange groves and pastures in Broward replaced native cypress stands and pine woods early in the 20th Century, housing developments came along in the '70s, '80s and '90s and plowed under the rest. In Dade, tomato and bean fields, lime and avocado groves replaced pineland and hammock, but they too are drowning in St. Augustine grass and barrel-tile roofs.

VANISHING WOODS
By the end of the 1980s, most of the forest was lost

By the late 1980s, we began to realize the forest had been lost and the trees with it. We even voted to tax ourselves to save endangered areas in 1990.

Then, Andrew ripped out thousands of trees. (Unknowingly, we cut down hundreds that could have been saved.) Miles away from ground zero in South Dade, many of Broward's badly pruned trees toppled or split.

After Andrew, the Federal Emergency Management Agency agreed to replace lost trees -- but not maintain them, said Paul Carey, head of landscape architecture for the Miami-Dade Parks Department.

''In the parks, that wasn't such a burden because we have irrigation, but it made a difference on the roadways. Road rock and medians with high centers mean half the rain runs off,'' Carey said.

Miami-Dade County has spent $14.8 million since Andrew planting street and park trees. About a third of that was aimed at beautifying the main roads used by dignitaries from 33 nations for the Summit of the Americas in 1994. They came to talk about trade, human rights and the environment. To impress them, we planted more than 23,000 trees, costing $4.4 million.

Of those, 19,000 were palms, only 6,000 shade trees.

Palms may create a chamber of commerce image for South Florida, but they don't create much shade. Many of them regularly require costly fertilizer. Royal palms are naturally swamp palms and don't thrive in highway medians.

''Public works felt palms were less maintenance because they required no pruning and have less of a root problem,'' said Carey, of the Miami-Dade parks department. ''We've said palms have vastly greater need for fertilizer -- twice a year -- and in the long run we will spend more on palms.''

Since the summit, Dade has planted another 53,523 trees, costing $10.4 million. But the multi-year contracts with nurseries didn't require maintenance beyond watering, and hundreds of trees have languished.

SCANDAL IN DADE
Program was halted after trees began disappearing


Dade's ''shrinking'' royal palms and disappearing mahogany trees led to a halt in tree planting last year after scandal erupted in the county's parks department. Royal palms were found not to be as large as the county had contracted for, and mahogany trees paid for could not be found. Willie Cutie, the then-head of the parks department, was indicted and others fired. Cutie, suspended from his job, goes on trial this spring.

Just this month, five huge Dade County slash pines were illegally cut at the Tall Pines Trailer Park. A neighbor called police, who issued a cease-and-desist order to save the pine left standing. ''They were more than 100 years old,'' says the neighbor. ''One was 28 inches in diameter and four stories high.''

Wilfredo Gomez, who works for Gables Edge Parks Co., which owns the trailer park, said the park's owners were concerned the trees were sick. Joy Klein, head of forest resources for Miami-Dade Environmental Resources Management (DERM), said the trees were healthy. Jean Evoy, a section chief of DERM, said the trailer park owners must plant four times the trees they removed to replace the canopy.

Hat-racking -- cutting off major limbs at mid-point so they look like hat racks -- is forbidden in landscape ordinances all over South Florida. Yet hat-racking and other bad pruning practices continue almost unabated.

''One of the biggest problems we have is tree abuse. I've seen county crews go out and hat-rack trees,'' said Broward County Commissioner Kristen Jacobs.

In Miami, tree-trimming crews don't include a certified arborist. The historic neighborhood of Morningside -- just east of Biscayne Boulevard, from 50th Terrace to 61st Street -- recently hired its own arborist to protect its trees.

Some communities, nevertheless, have managed to create cool, green cityscapes. Coral Gables, Miami Springs, Plantation and North Miami stand out.

Their work is bolstered by several initiatives. The Environmental Protection Agency and NASA have joined to measure the heat-island effect -- increased urban temperatures due to lack of trees and dark rooftops. They hope to recommend where to plant trees when research is concluded in two years. American Forests has a program called City Green to help communities calculate the size of their urban forest and devise strategies to keep it.

In November, Miami-Dade County Commissioner Miguel Diaz de la Portella sponsored a proposal to reallocate $100,000 of an $800,000 contingency fund set aside for watering and fertilizing existing trees to a pilot project called Shade for Dade. The commission agreed, setting up two $3,000 grants per district for neighborhood groups to plant trees. By May the commission will select a nonprofit group to run the grant program, which will include a stipulation that residents maintain the trees.

Landscape ordinances in South Florida also are getting stricter. In Broward, the County Commission toughened its tree ordinance last March, tightening regulations for tree removal and tree-trimming abuses. The county also began this year to give out trees -- it gave away 1,600 trees last weekend and plans to give out about 5,000 trees during the Home Show in May, McSweeney said.

WHAT NOT TO PLANT
Poster is available of trees that do more harm than good


In Miami-Dade, a new poster of prohibited trees -- including carrotwood, shoebutton ardisia, India rosewood and laurel fig -- is available from DERM. The county is readying a request for bids on street trees, with maintenance included.

Broward has sampled sections of the county to analyze its tree canopy, creating a benchmark for the future. Burke, the county's tree resource manager, said preliminary numbers in five sampled areas show canopy cover ranging from 7.7 to 24.8 percent. (The areas were sampled last year, based on 1998 aerial photographs.) Burke wants to shoot for the 40 percent canopy goal.

Miami recently hired landscape architect Maria Nardi, who is setting up pruning workshops for city crews.

TREE-mendous Miami, a nonprofit tree organization that's a year old, has received $25,000 from the Florida Urban Forestry Council to hire a director. It has a model in Greenscape of Jacksonville, a 25-year-old nonprofit group that has planted more than 150,000 trees in that city. Last year, the group planted $500,000 in trees.

''We plant, protect and encourage others to plant,'' says Anna Dooley, executive director of Greenscape. ''The whole thing is about partnership, and about instilling pride in our citizens and the desire to make our city better.''

Says TREE-mendous Miami's Ross, ''I'd love to see all these tree interests . . . rally behind a tree canopy goal. I haven't seen that happen.''