A SHADOW IN THE JUNGLE
The Last Eclipse
by
Oscar Sogandares G.
Tropic Times contributor
We missed the "big one" to hit Panama on July 11, 1991. We traveled to Chiriqui where maximum totality was greatest (nearly 5 minutes), only to find massive cloud formations gathering over the 11,410 feet Baru Volcano. These clouds obscured our view precisely during moments of the spectacle, including thunder to highlight the cosmic event. It was as if Zeus himself were to deny us the privilege of watching such celestial encounter. I recall other places along the way, such as Las Lajas, Santiago and Las Tablas, which were rewarded with the rare astronomical treat.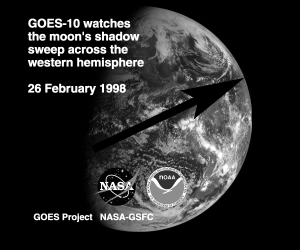 Path of the February 28 eclipse as seen from the

GOES orbital satelite

We were determined this should never happen again. It was our chance again seven years later, as I learned of the forthcoming one Feb. 26, 1998 (we were fortunate, Belgium hasn't seen its last total eclipse in 700 years). I would take advantage to travel to that last frontier, Darien. I contacted John Carlson, president of the Panama Historical Society and organizer of Aeroperlas Charter Tour direct to Bahía Piñas and the world renown Tropic Star Lodge, to witness this event. We were crossing our fingers that the weather would be more favorable, despite the unpromising foggy morning haze and considering this was the dry season made especially drier due to El Niño. But like all things in nature, there is never the promise to anything; we simply had to take the chance.

But as soon as our plane hit ground over Jaque everything started to clear up. It was as if Nature were finally on our side. Bob Rupp, co-organizer of our group, asked our guide when the last high tide was. He told us it was about 4 a.m., next one was due at about 2 p.m. (extra-high tide due to the eclipse). According to our sources, the eclipse would start at sunrise somewhere near the Marquesas, its shadow would travel upon Pacific waters, hitting land on the northern fringes of the enchanted Galapagos. It would reach maximum duration of 4 minutes 8 seconds some 600 miles off Panama, and achieving totality at 12:43 a.m. upon touching Panama's coastline. The very same coast that Balboa had trodden for the King of Spain centuries ago. The shadow to continue its inexorable trek through Colombia, Venezuela, and the Lesser Antilles only to fade into the distant sunset off the coasts of Morocco.

After unloading our gear from the plane we boarded our tractor-driven "trolley-car" past a few fishermen's huts, past the landscape which still retains its primeval character, its exuberant swamps and its luxuriant rain forest. We walked a few yards over the damp beach for a "wet" boarding (barefoot), into our panga which sped us through luscious swamps and into Piñas Bay, home of the Tropic Star Lodge. Upon landing we were welcomed by Terri Andrews, its owner, who promptly escorted us to the swimming pool, site of our astronomical observations and not to mention "gastronomical" encounters.

The morning progressed normally after taking a much-needed typical Panamanian breakfast, along with coffee, cream and orange juice. Just as soon as we had finished, at approximately 10 a.m., someone shouted, "first contact." The moon had just intercepted the sun in its frantic path toward totality, or according to mythology, a giant monster was starting to devour it chunk by chunk. John Carlson had just brought in the much-awaited Mylar filters, although I felt safer focusing my binoculars on a reflective surface. Some people were already going for the splash in the pool, in anticipation of the 12:43 eclipse. But as I started to photograph the phases I noticed I had but a few shots left. I knew when moments like these arrive; its no time to be changing rolls. Therefore, I proceeded to "burn" the remaining frames with my newly acquired-feathered friends. I must confess these guacamayas slept throughout the entire performance. So as I took one or two frames of the languishing crescents, the moment of truth finally arrived precisely at 12:43 a.m. when totality overtook us as suddenly as an express train.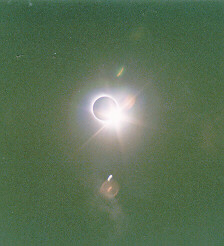 Diamond ring effect, Bahia Pinas, Darien (courtesy David P.Dempsey)
At that precise moment someone shouted, "look at the diamond ring." From across the pool someone else exclaimed, "I can see the planets." As this moment of exhilaration occurred I found myself literally holding my camera and tripod off the ground and just shooting away at the gradually diminishing corona (only safe moment to observe the eclipse). All you could hear now were the cameras clicking, camcorders humming, plus all the "oohs" and the "aahs," the wonder and excitement of the moment.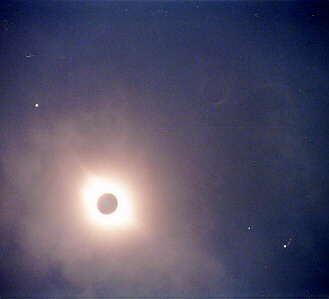 Totality, surrounding sun's corona are Mercury Venus and Jupiter (courtesy David P.Dempsey)
Wild things usually occur during an eclipse, just as a baby boa constrictor that bumped into our group and joined in for the party. Soon we were treated to lunch worthy of a king's delight, plus excellent accordion music Darien style, courtesy of our hosts. We had just noticed an interesting crescent projected under a thatched penca roof, but weren't really that excited after all this. Finally, as in all good things must come to an end, we departed to the Lodge's "Hall of Fame" with its record trophies, souvenirs and commemorative T-shirts. Then we gathered around the gateway for a group portrait before departing.
As our plane soared over the Perlas Islands, we felt tired but satisfied. We witnessed the last eclipse of the century for the Americas. The next one to hit our part of the world again will be an annular, "ring of fire" eclipse over Costa Rica, during the sunset hours, Dec. 14, the year 2001.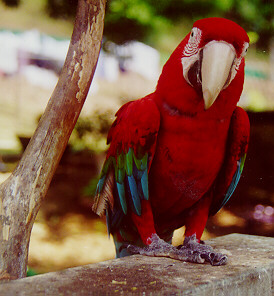 Our feathered friends slept throughout the entire performance (Oscar Sogandares)
Images from Darien
Images from Galapagos
The latest forthcoming December 14, 2001 Annular Eclipse over Costa Rica
You are Visitor number
since October 19, 1998
MEMBER
of the POD